Once Upon a Time: The Strong Women of Storybrooke
The series, Once Upon a Time, may long be over, but it left behind a household full of fans. If you're late to the party, you can still catch all seven seasons over on Netflix. We are big fans of family-friendly fantasy-super-hero-type programs that we can watch together on weekends. Parents, in case you are curious: our youngest kids, now 10, began watching Once Upon a Time a couple of years ago and were able to navigate the "scary" bits just fine.
Aside from the fact that Once Upon a Time is wholly entertaining (with its share of, ahem, medieval eye candy) it is filled with a slew of strong female characters — good , evil and everything in between. And while there is a certain predictability — everyone yearns for their happily ever after — remember, it is based on childhood fairy tales, after all.
By turns, the female characters reveal vulnerabilities, fall victim to their evil sides, kick some serious ass, and even find their zen. Here's the skinny on some of our favourite OUAT girl- power houses.
Emma Swan, the Badass (played by Jennifer Morrison)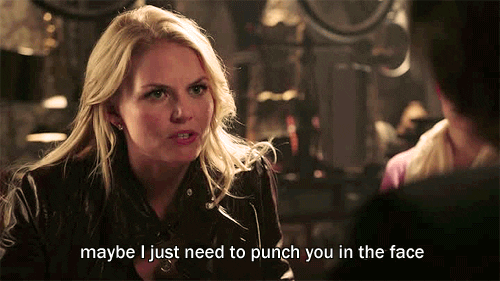 Emma, in her signature red, leather jacket, is the prophesied "Saviour" of Storybrooke, a title she thinks is a load of B.S. As a foster-child-turned-petty-criminal, she yearns for family and stability but is afraid to be vulnerable. So what does she do? Remembers she has a son, becomes the sheriff and falls for the bad boy we all love, Hook. However, her happy ending does not come without a turn to the dark side and a solid amount of ass-kicking. Oh, and the super powers are pretty cool, too.
Snow White aka Mary Margaret Blanchard, the Hopeless Romantic (played by Ginnifer Goodwin)
Snow White is a spicy gal. Sweet, pure, quick-thinking and adventuresome, she finally finds the true love that eluded her for so long: Prince Charming/David Nolan. In a bizarre twist of time-travelling fate, it turns out Mary Margaret is Emma's mother. (I suppose if we did the math, there's a good chance she is even younger than her daughter.) This does not hinder her maternal instinct or keep her from going into over-protective mom mode, however. We love her for it. Almost as much as we love her pixie cut.
The Evil Queen aka Mayor Regina Mills, the Heart Crusher (played by Lana Parrilla)
Do we dare feel empathy for this dark-hearted Queen whose only mission in life is to crush Snow White's heart? I mean, all she really wants is to find love, right? No wonder she's pissed at that bitch, Snow White, whom she thinks is responsible for the death of her true love. And can you EVEN with Emma, who ruined Regina's chance at love again with Robin Hood after she inadvertently changed history by time-hopping and bringing back Hood's now-not-dead wife?! I guess we'd get a little stabby, too. Thank goodness she still has the heart of her son, Henry — who also happens to be Emma's son, making for an interesting family dynamic — and, perhaps even, a glimmer of good?
Red Riding Hood aka Wolf aka Ruby Lucas (played by Meghan Ory)
Speaking of feisty, Ruby's firecracker, sassy, stay-out-all-night-partying attitude can not hide the heart of a true, loyal friend. But she is probably the most surprised to discover the wolf terrorizing Storybrooke is actually…her alter ego. While the cloak is meant to suppress her wild side, Red eventually embraces her inner wolf and learns to control her transformations and finds her spirit animal in Dorothy. #couplesgoals
Maleficent the Dragon Lady (played by 
Kristin Bauer van Straten)
That Maleficent. Boy, she can really rock a pair of horns like nobody's business. Unfortunately, even this gal's fiery alter ego doesn't come close to the evil that Regina unleashes on her pointy head.
Belle (Lacey) played by Emilie de Ravin
Let's face it. She tamed the beast. Or did she? While the rest of us are over here wondering, "What the hell, girl?", Belle is determined to see the good in everyone. Not one to judge a book by its cover, she reads between the lines to really get to the soul of a person, in this case, Rumpelstiltskin.
Mulan, the Warrior (played by Jamie Chung)
Mulan is one tough lady. She is loyal but unlucky in love, as she covets Princess Aurora's Prince Phillip. Sworn to protect her Prince, however, this warrior, with hair even Snooki would envy, busts out all the moves. Eventually, when she realizes her love is unrequited, she leaves to join Robin's band of merry men. Also, she wears some pretty fabulous armour.
Princess Anna aka Joan (played by Elizabeth Lail)
Resourceful as all get out and determined AF, Anna goes undercover, gets herself kidnapped, then rescued, and just about makes a deal with the devil himself, Rumpelstiltskin, until she turns the tables on him. She survives an abduction and curse by her Aunt Ingrid which transforms her usually-sunny disposition to a bitter and angry one. When the magic wears off, 30 years later, she finds her way back to her sister, Elsa, with her love, Kristoff, in tow. Together they help break Ingrid's icy curse on Storybrooke.
Ingrid aka the Snow Queen aka Sarah Fisher (played by Elizabeth Mitchell)
Ice cream parlour owner, Sarah Fisher, by day, icy Snow Queen bitch by night, Ingrid is one bitter chick. Not only is she harbouring decades-old resentment from the betrayal of her own two sisters, which she then unleashes on her nieces, but it turns out she once made her way to the realm, Earth, and adopted Emma as a teenager, in order to form a new sisterly trio. As she unleashes yet another curse, she has a moment of remorse and sacrifices herself in order to break the spell. One might say she did it all in the name of love.
Merida (played by Amy Manson)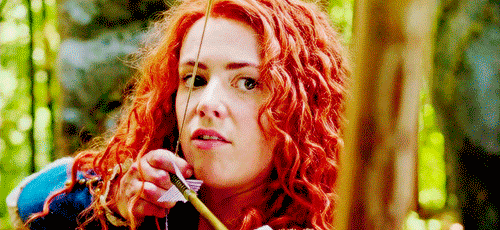 Merida is the anti-princess. Raised by her father, she is capable, both mentally and physically, and fights for what she believes in. While she wears her heart on her sleeve, she's not afraid to take matters into her own hands to protect her land. And if that fiery red hair weren't enough to convince you of her spunk, she can shoot an arrow like nobody's business.
The Wicked Witch of the West aka Zelena aka Kelly West (played by Rebecca Mader)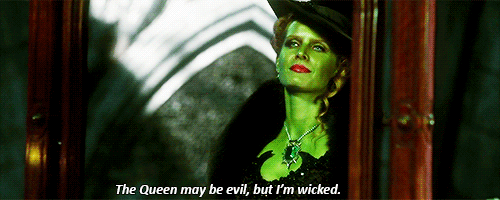 Ah, Zelena. Nobody quite pulls off the colour green like this Wicked Witch. After discovering she was abandoned as a baby, then adopted, she harbours some serious resentment towards her sister, the Evil Queen, whose parents kept her. This jealousy eventually leads to her turning green with envy and is what drives her vengeful actions, notably, becoming pregnant by Robin, who, if you recall, was Regina's true love. Ultimately, motherhood and spin class appear to soften her a bit.
The "new" Cinderella aka Jacinda Vidrio (played by Dania Ramirez)
How great is it to see a modern twist on a fairy tale princess by introducing a Latina Cinderella? Talk about spicing things up! Especially since Cinderella had previously appeared on the show looking a little more…traditional. Jacinda is a modern-day woman looking to make ends meet for her and her daughter and doesn't have time for nonsense. She is resourceful, entrepreneurial, and fiercely independent. Asking for help does not come naturally for her but she learns it's alright to depend on others when it's a matter of survival and family.
There are, of course, many more female characters that show both their feminine and feminist sides, strengths and vulnerabilities. That is what makes this show so great: the modern twist on the woe-is-me, all-I-need-is-a-prince-to-fix-my-life fairy tale. The women, princesses, and queens take charge and take names. Do you have a favourite Once Upon a Time character?